Valencia Travel Guide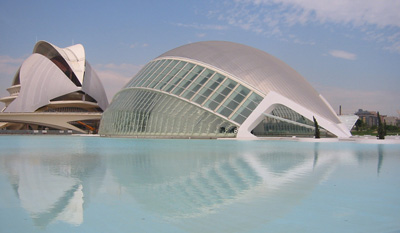 Valencia - Palau de les Arts and L'hemisferic
Valencia Guide: Introduction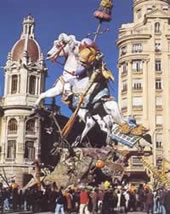 The province of Valencia, the largest of the three making up the Valencian community, is situated in the centre of the Spanish Mediterranean coastline while overlooking the spacious Gulf of Valencia; it is skirted at the back by a group of medium-high mountains and rolling plains leading to the lands of Aragon and Castile-La Mancha. It is also opposite the Balearic islands and equidistant from the country's two major decision-taking centres: Madrid and Barcelona. Take a look at this Valencia map to check where Valencia is located within Spain!
Valencia is a place identified with the Mediterranean Sea because its culture deriving from the old Mare Nostrum is shown in its patterns of social behaviour.
Furthermore, Valencia city is the administrative capital of the Valencian community and the centre of the region of L'Horta. Valencia is the most densely populated town in the region as it is encircled by a wide belt of medium-sized districts with an average density of 1,600 inhabitants per square kilometre forming an unbroken built-up area.
A bit of light travelling in Valencia
Sightseeing around the city begins in the old quarter. Until the mid-nineteenth century, it was defended by a wall, which was the inner route of the no 5 bus. Still standing as a proof are the graceful Torres de Serranos, the spacious Torres de Quart and some remains of the apron wall in the basement of the Valencia Institute of Modern Arts (IVAM). The most outstanding artistic heritage is the one found in the districts of Seu and Xerea, where the marks left by the Romans lie hidden beneath Arab ruins and modern churches and palaces.
Plaza de la Virgen
Palau de la Música (Music Palace)
The Mercat district took shape around the trading life of the city's inhabitants. Accordingly, its two most emblematic buildings are used for trading purposes. The Gothic building of La Lonja, declared by UNESCO as a universal heritage monument, features a beautiful columned room where the old tables on which trading transactions were finalised are still in use today. Outside the destroyed wall grew the Valencia of the bourgeoisie, with its wide pavements, broad landscaped thoroughfares and countless instances of modernist architecture. On the other side of the Turia's old riverbed lie the nursery gardens, along with the Fine Arts Museum and the ultramodern part of the city which, on account of its size, serves as a nexus between the coastal townships and the old quarter. The futuristic face of the city is mirrored on the old riverbed through the Gulliver Children's park and the leisure and culture complex, the Ciutat de les Arts i de les Ciencies (the City of Arts & Culture). Life in the city spreads down to the seafront with the harbour and the beaches of Las Arenas and La Malvarrosa.